Middle East Chapter AIAL Launched New Course of Lahaye Institute
April 5, 2015
Comments Off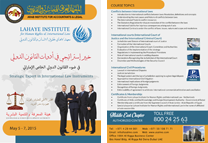 Middle East Chapter Arab Institute for Accountants & Legal (AIAL) launched a new course under Lahaye Institute. The course will include topics in International conflicts between laws, International courts (most notably the International Court of Justice and the International Criminal Court) and International Civil Procedure.
It is certified by Lahaye Institute and attested by UAE Ministry Knowledge of Human Development Authority (KHDA). The course is also adopted by High Authority Council for Arab Jurists – Arab Republic of Egypt.
---
View English course brochure here.        
View Arabic course brochure here.        
---
Call Toll Free: 800 24 25 63